Case study - Online registration system(ORS) redesign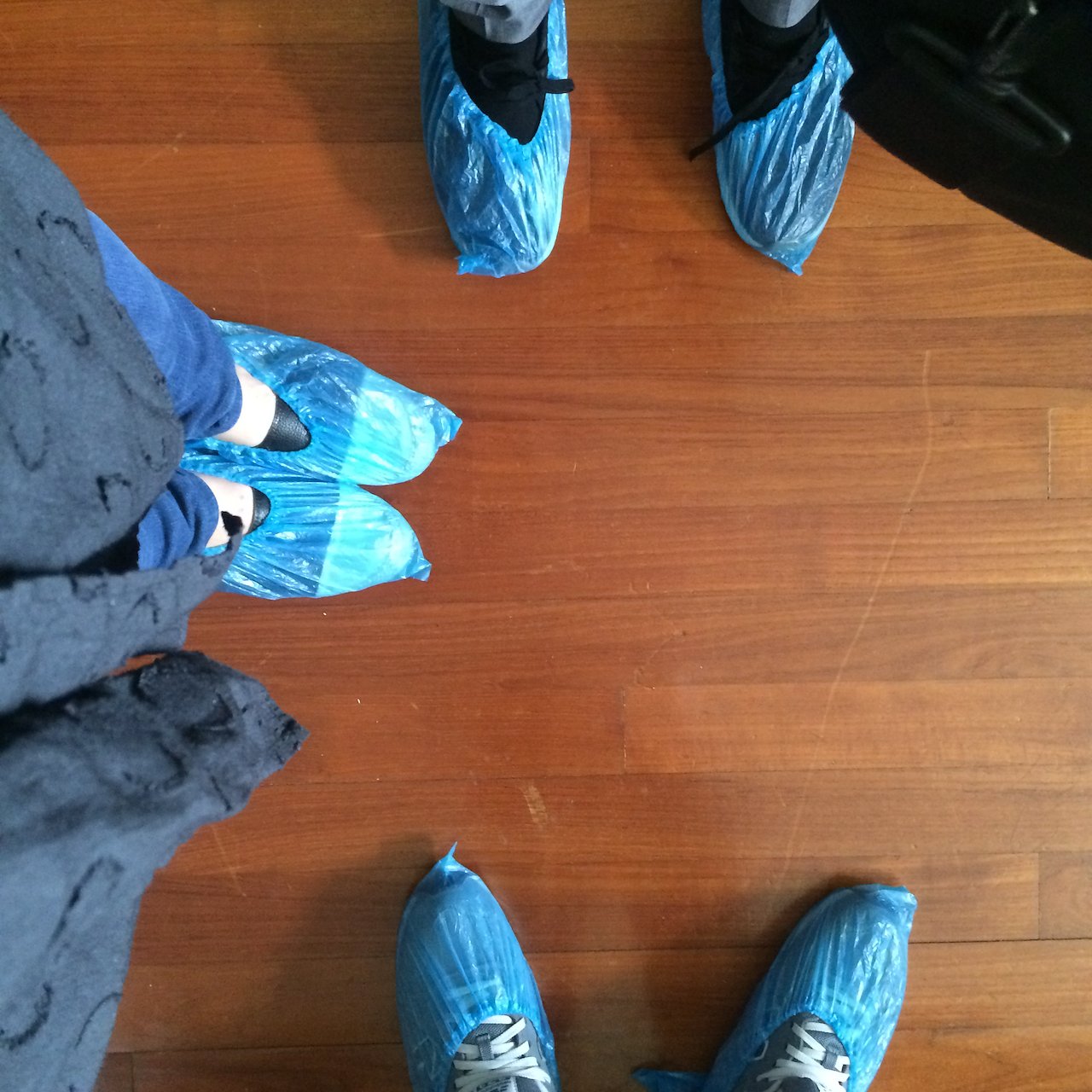 Home visits for user testing and contextual interview
My Solution
Keeping in mind the international nature of the business, I took a global approach to this project – the research and solution should meet different audience groups in different regions;
Starting with a formative international ethnographic study and user card sorting exercises in Hong Kong, and later summative user testing in Dubai, the idea was to generate common issues for user groups despite of geographic locations.
My goal was to use this direct input from our users to establish business cases; to define design solutions and attain stakeholders for sign-off.
Highlights:
• Lead team of three to Dubai for summative user testing prior to launch;
• IELTS user research in Hong Kong, including ethnographic study and user card sorting exercise;
• Concept test initial three registration journey;
• Impression testing on design;
• Provided original ux review in spring 2016 for Digital director to outline the project rationale and put forward to the board to get funding;
I expect you asked me for my email and a password to create account, nothing else – Feedback from user during concept testing.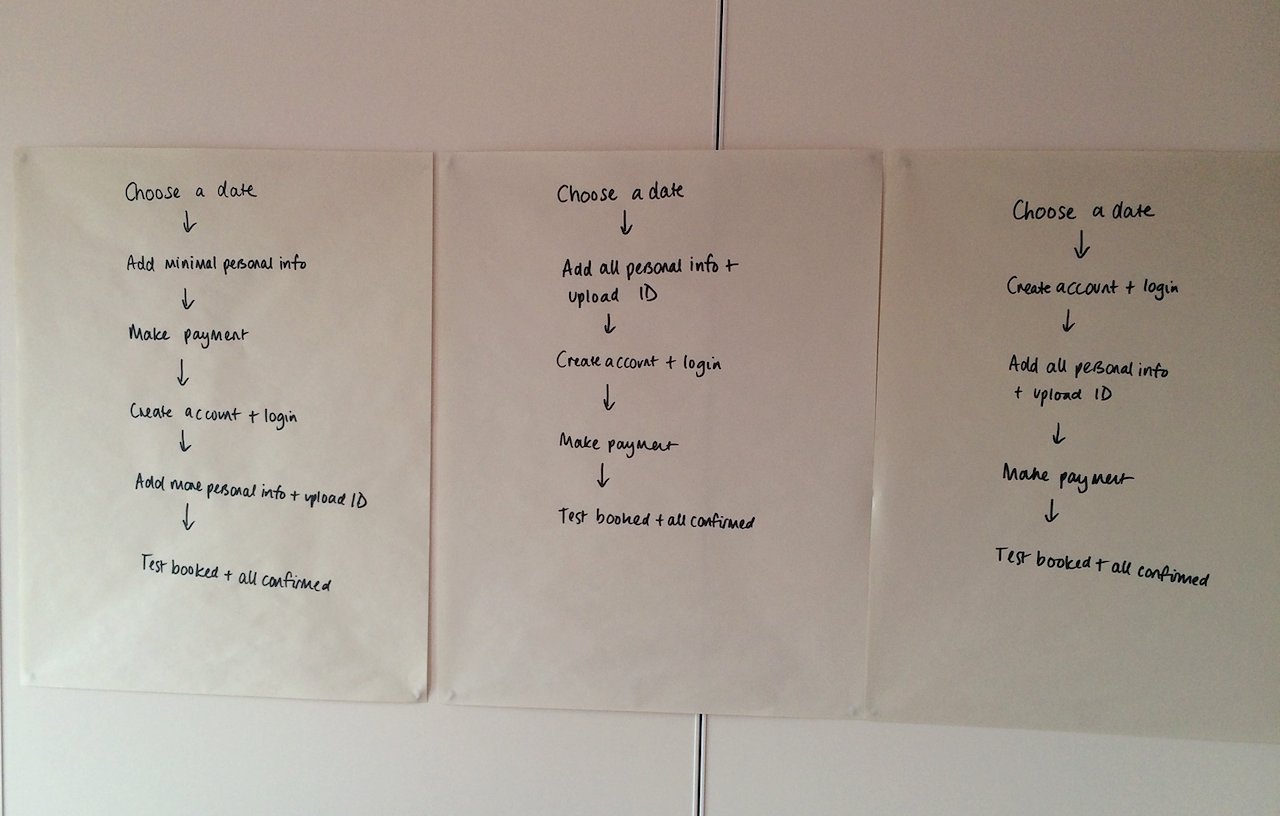 Concept testing for user journeys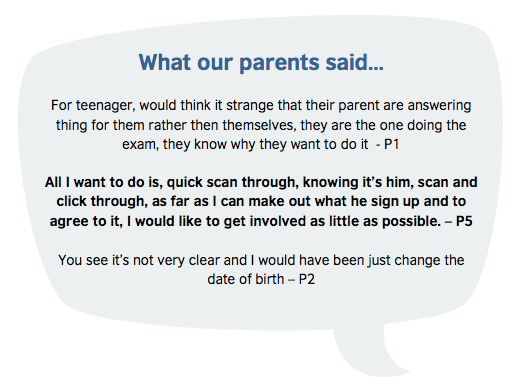 It should be highest education level instead of just education level – Participant from Guerrilla testing
Outcome:
• Research provided business case for supporting different payment methods based on regional attitude toward online payment;
• Research highlighted the practicality and issues raised when requesting parent to complete registration on their children's behalf;
• Research provided cases for continue improvement on interaction and design.
The new online registration system, ORS, was launched with pilot countries in February 2018 with success.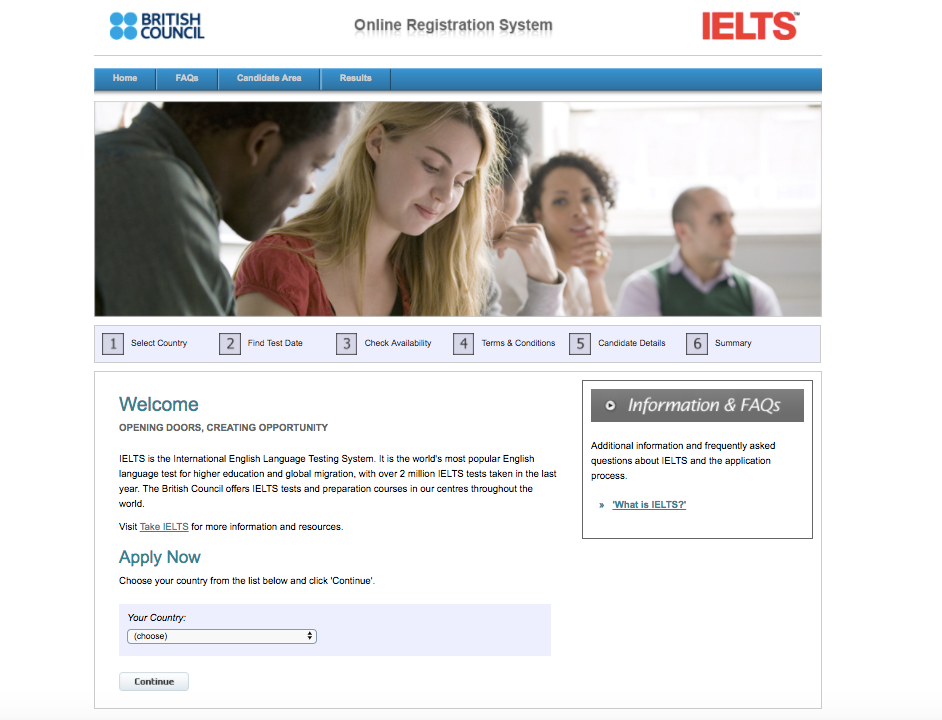 ORS – Online Registration System, the beginning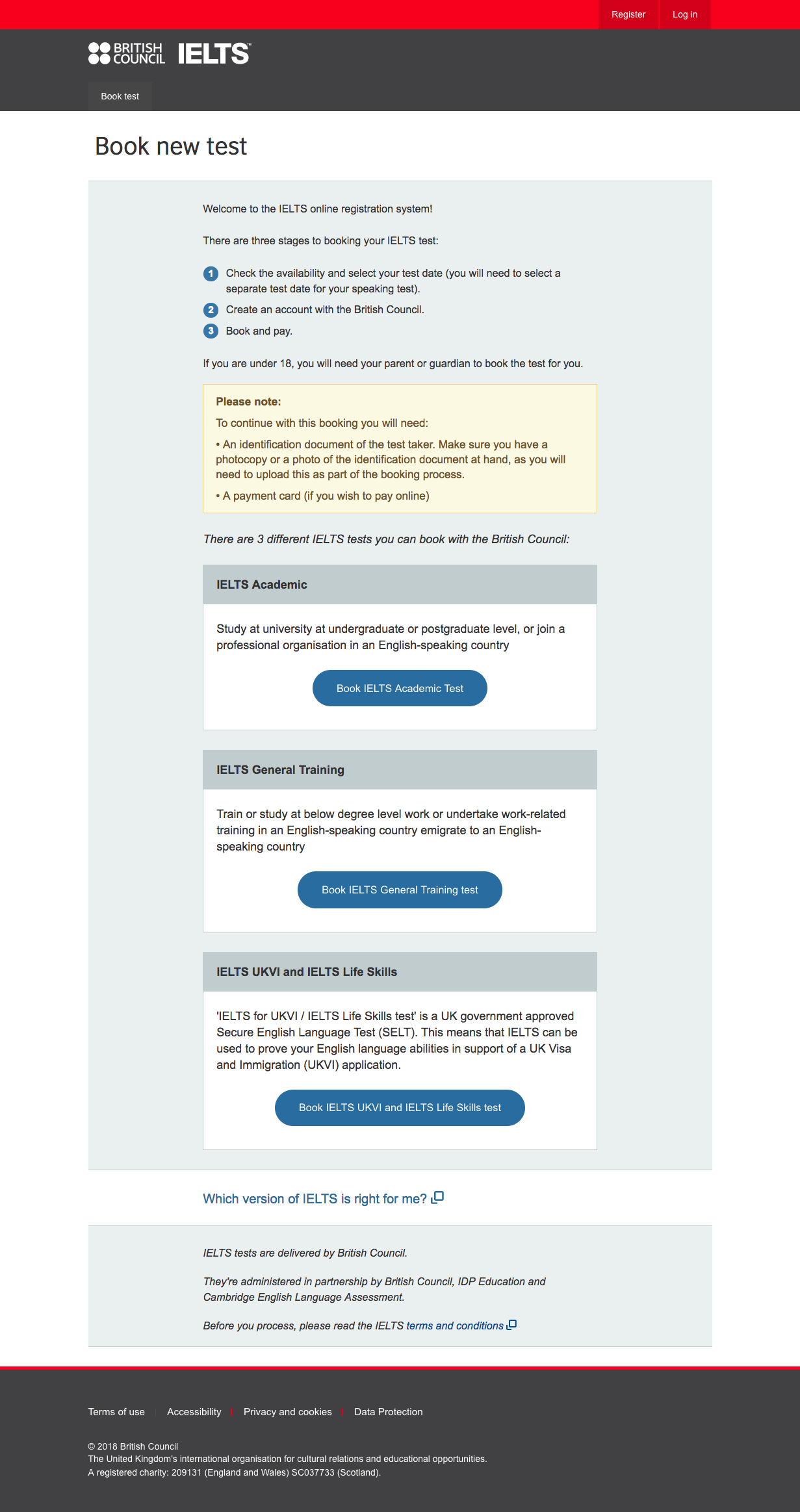 ORS – Online Registration System, final re-design launched in Feb 2018.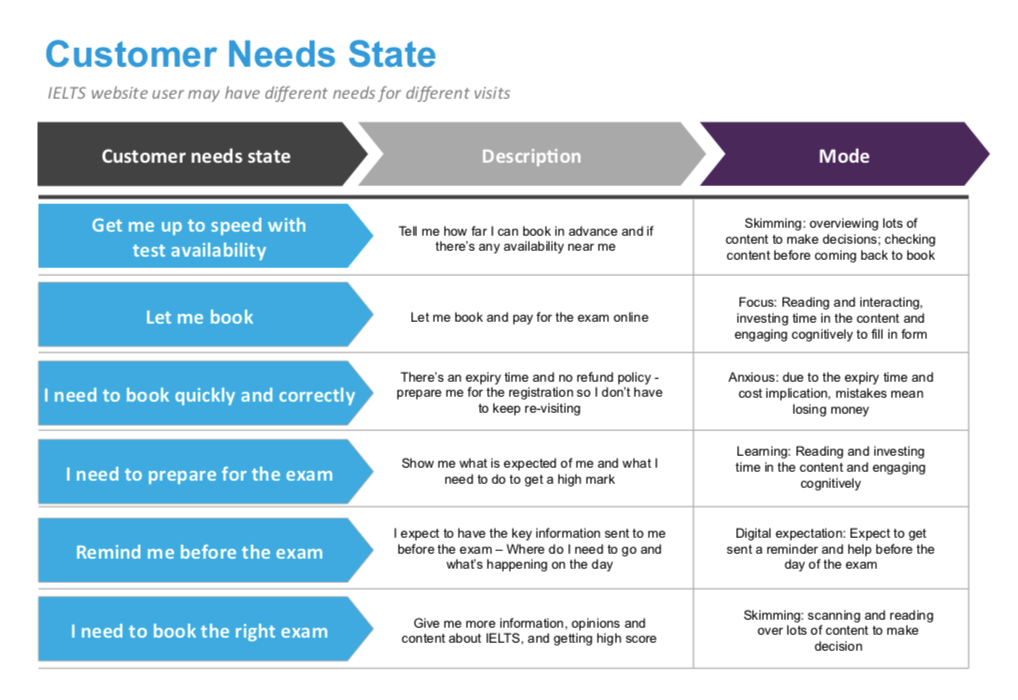 • Define user needs state to understand user's mental model further up the funnel;
• Introduce to stakeholders user needs and concepts of user centred design.
Created user journey defined by user goals and needs.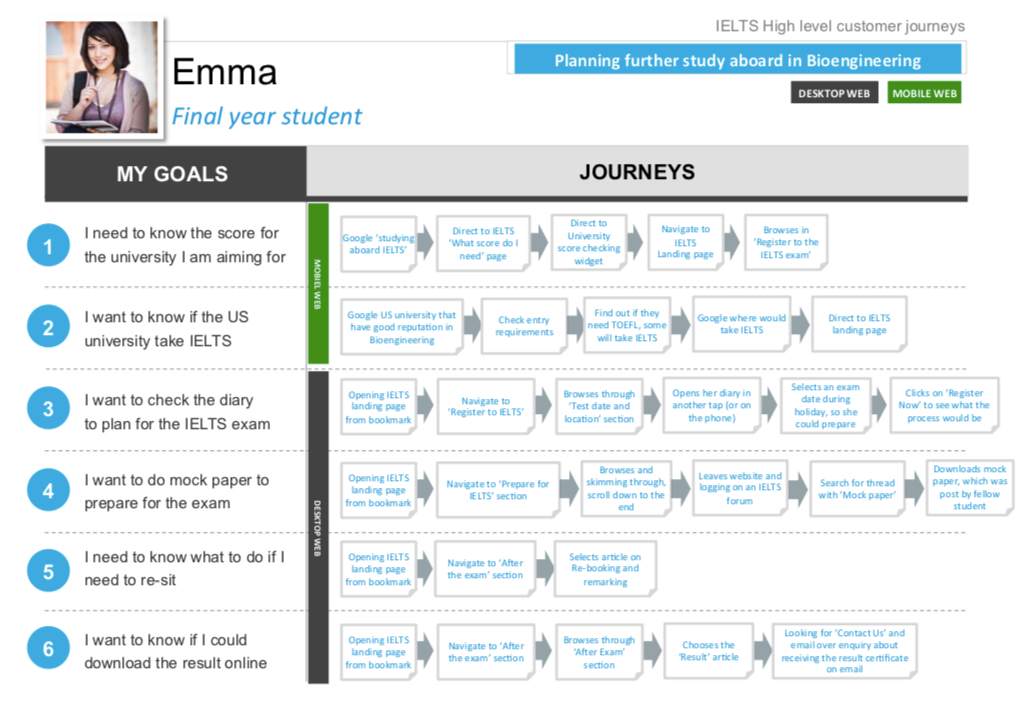 Test plan and report example upon request.
Background
IELTS is the world's most popular English language proficiency test for higher education and global migration, with over 3 million tests taken in the past year. It is the global benchmark for the English language and is a key revenue stream for the British Council.
Challenge
The existing online registration system (ORS) didn't provide a good user experience – user journey was jarring, non-responsive, led to a huge amount of drop off and amble calls to customer service regarding to registration. Conversion rate was relatively low.
---
Type #Lead researcher #International user research #Full project cycle
Up Next:
Aviva Public Web